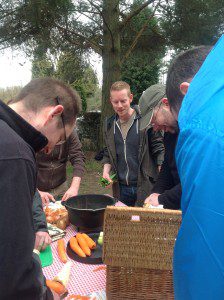 Game butchery is ideal for larger hen & stag parties & also provides you with an excellent feed!
Dave your expert for this experience has many years of experience. Dave is truly skilful with his knives.
After swiftly removing the skin and preparing the most delicious steaks, you get to taste them first hand as we then pan fry them on the BBQ at the lodge or if you are staying in our cabins and have exclusive use of the BBQ cabin in there.
We will also explain to you how to use the meat and if possible* we go on to make some the most succulent venison sausages you will ever taste.
The game butchery session is definitely something to experience.
*may vary due to timings, please ask at the time of booking
if this is available. Please note this experience includes meat for your meal, not the whole carcass.
Game butchery experience costs:
With any packages if you have less than the minimum numbers required you may still do the event if you pay the full price required.
This is an in season package only available from August to April.
Minimum number of people for this experience is 12 people at £75 per person.
Want to book for Game Butchery Session
If you like this – or any of the other awesome Stag or Hen Activities on our website, just click the Book Now button below to send us a no obligation enquiry.